The Eastern Cape, at 168 966 km2 , is South Africa's second largest province after the Northern Cape. The Eastern Cape takes up 13,9% of the total land area of South Africa. The province has a population of more than 6,5 million people. The majority of whom speak isiXhosa, followed by Afrikaans and English. It is a region of great natural beauty, particularly the rugged cliffs, rough seas and dense green bush of the Wild Coast. The region has remarkable natural diversity, ranging from the dry, desolate Great Karoo to the lush forests of the Wild Coast as well as the Keiskamma Valley; the fertile Langkloof Valley, renowned for its rich apple harvests; and the mountainous southern Drakensberg region at Elliot. Various floral habitats meet in the province, ranging from tropical forests in the north to the more temperate woods of the south. The Eastern Cape is one of the poorest provinces in South Africa. This is largely due to the poverty found in the former homelands, where subsistence agriculture predominates.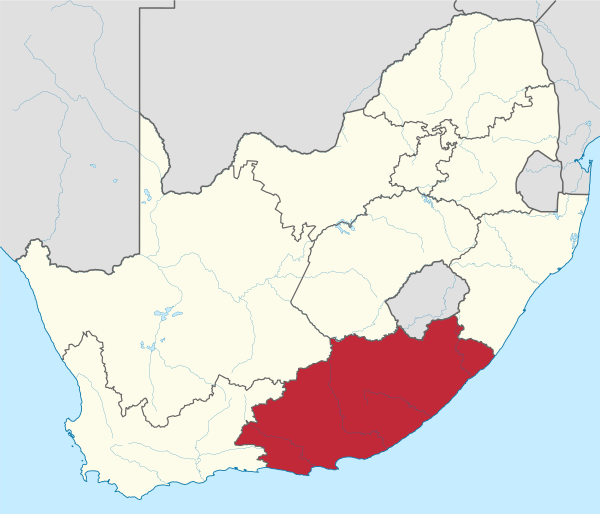 The province is home to a number of higher education institutions. These including Rhodes University, the Nelson Mandela Metropolitan University, the University of Fort Hare as well as the Walter Sisulu University of Technology. It has airports in Bhisho, East London, Mthatha and Port Elizabeth. It also has two major harbours in East London and Port Elizabeth respectively.
The Eastern Cape offers a wide array of attractions, including 800 km of untouched and pristine coastline along with some particularly splendid beaches, and "big-five" viewing in a malaria-free environment.
Visit the Eastern Cape Tourism page for information on what the Eastern Cape has to offer.
The coastal area of the Eastern Cape Province lies directly between subtropical KwaZulu Natal and the Mediterranean Western Cape. Its inland area is bisected by the great escarpment, and the northern areas have lofty plains of the Plateau and the Great Karoo. These topographical differences are what cause the climatic differences and conditions experienced by the various towns and cities.
In the North East along the Wild Coast, towns like Port St Johns experience long, hot, balmy conditions and high rainfall, while Graaff Reinet, in the heart of the Karoo Heartland, experiences long hot summer months and moderate winters. Up towards the Free State (at towns such as Lady Grey and Aliwal North) the rise in altitude means the appropriate lowering in temperature and sometimes snow.
Added to the diverse coastal experiences are more than 60 state-owned game reserves and over 30 private game farms, which collectively cover an area greater than the Kruger National Park.
Eastern Cape Agriculture, fisheries and forestry
The fertile Langkloof Valley in the south-west has enormous deciduous fruit orchards, while sheep farming predominates in the Karoo. The Alexandria-Grahamstown area produces pineapples, chicory and dairy products, while coffee and tea are cultivated at Magwa. An olive nursery has been developed in collaboration with the University of Fort Hare to form a nucleus of olive production in the Eastern Cape. The coastal areas receive good summer rainfall and have a moderate climate, becoming more subtropical to the north-west. This, therefore, makes it particularly suitable for forestry. The basis of the province's fishing industry is the squid. This also includes some recreational and commercial fishing for line fish, the collection of marine resources, and access to line-catches of hake.
Eastern Cape Industry
There are two industrial development zones. The West Bank in East London as well as Coega, near Port Elizabeth, which includes the deepwater Port of Ngqura. The metropolitan economies of Port Elizabeth and East London are based primarily on manufacturing, the most important being automotive manufacturing. The province is also the hub of South Africa's motor industry. With its ability to link throughout the economy, the government has therefore identified the automotive industry as a key growth sector. It already exhibited significant growth under the Motor Industry Development Programme. Other important sectors include renewables and green industries, forestry and timber processessing, pharmaceuticals, plastics and chemicals, capital goods and tourism. The two major industrial centres, Port Elizabeth and East London have well-developed economies based on the automotive industry. General Motors and Volkswagen both have major assembly lines in the Port Elizabeth area, while East London is dominated by the large Daimler Chrysler plant, now known as Mercedes-Benz South Africa.
Major Metropolitan Municipalities
Buffalo City Metropolitan Municipality (BUF)
Description: The Buffalo City Metropolitan Municipality is a Category A municipality situated on the east coast of the Eastern Cape Province. The boundaries of the newly established municipality now include a large area characterised by very different features. Two former municipalities, Transitional Local Councils – that of East London and King William's Town – have merged into one. Other areas that were previously not included in either of them are now part of Buffalo City.
The municipality was established as a local municipality in 2000 after South Africa's reorganisation of municipal areas and is named after the Buffalo River, at whose mouth lies the only river port in South Africa. On 18 May 2011, it was separated from the Amathole District Municipality and converted into a metropolitan municipality. History was made in Buffalo City when the City elected its first female mayor on Friday, 17 March 2006.
The area has a well-developed manufacturing base, with the auto industry playing a major role. The climate is mild, with year-round sunshine. Average rainfall is 850mm.
Area: 2 750km²
Cities/Towns: Beacon Bay, Berlin, Bisho, Breidbach, Dimbaza, East London, Kidd's Beach, King William's Town, Mdantsane, Phakamisa, Potsdam, Zwelitsha
Nelson Mandela Bay Metropolitan Municipality (NMA)
Description: The Nelson Mandela Bay Metropolitan Municipality is a Category A municipality, established on 5 December 2000. Nelson Mandela Bay was the first city in South Africa to establish a fully integrated democratic local authority and the only city in the world named after Nelson Mandela, who was born and spent his formative years in the Eastern Cape.
Nelson Mandela Bay is a major seaport and automotive manufacturing centre located on the south-eastern coast of Africa. It is the economic powerhouse of the Eastern Cape Province and one of eight metropolitan areas in South Africa. Its boundaries are formed by Cassie Mountain View in the north, Cape Recife in the south, Sundays River Mouth in the east, and Van Stadens River Mouth in the west.
The city is a holiday hot spot for both national and international tourists. The predominant languages spoken are English, Afrikaans and isiXhosa.
Area: 1 957km²
Cities/Towns: Bethelsdorp, Bloemendal, Blue Horizon Bay, Clarendon Marine, Despatch, KwaNobuhle, Motherwell, Port Elizabeth, Summerstrand, Swartkops, Uitenhage
Main Economic Sectors: Manufacturing (25%), community services (23%), finance (23%), trade (13%), transport (13%)
Home of Legends
Cultural melting pot and birthplace of iconic world leader, Nelson Mandela, the rich heritage and diversity of the Eastern Cape with its people, sights and sounds are interwoven into the tapestry of what makes this region so unique. Become encapsulated in the history of a proud region and its people.
NELSON MANDELA
Born 18 July 1918 in the village Quna, Eastern Cape
"No one is born hating another person because of the colour of his skin, his background, or his religion. People must learn to hate, and if they can learn to hate, they can be taught to love, for love comes more naturally to the human heart than its opposite." Nelson Mandela
– Long Walk to Freedom (1995)
In a country ruled by racial oppression for a number of years, Nelson Mandela became a world icon for peace when he became the first black president of South African in 1994. Held with deep respect throughout South Africa and the world, Mandela is fondly known as the 'Father of the Nation' and received numerous awards for his stance against the Apartheid regime and its abuses.
Mandela stayed in office from 1994 to 1999 during which time his government focused on dismantling the legacy of apartheid through tackling institutionalised racism, poverty, inequality and fostering racial reconciliation.
As an African Nationalist, Mandela held other political positions including President of the African National Congress (ANC) from 1991 to 1997, and the Secretary-General position of the Non-Aligned Movement from 1998 to 1999. During his term as President of South Africa, Mandela established the Truth and Reconciliation Commission to investigate abuse during the Apartheid years.
Mandela is Xhosa born and attended the University of Fort Hare in the Eastern Cape as well as the University of Witwatersrand in Gauteng. At these universities he studied law and later became involved in anti-colonial politics, resulting in his joining the African National Congress. As a founding member of the ANC Youth League, Mandela rose to prominence in 1952 in the Defiance Campaign and oversaw the 1955 Congress of the People. Mandela later served 27 years in prison for conspiracy to overthrow the government. Mandela spent most of his sentence in the now famous Robin Island, off the coast of Cape Town. Lobbying through an international campaign led to his release in 1990.
Mandela has received over 250 awards including a Nobel Peace Prize, the US Presidential Medal of Freedom as well as the Soviet Order of Lenin.
Big 7
Come face to face with the Big Seven in the Eastern Cape and experience Africa's greatest animals on land and sea. Game and nature reserves allow visitors to enjoy the Big Five in their natural landscape. This is done through self-drive or guided game drives, while sharks and whales can be viewed along the coastal routes through tour operators.
Nature and Wildlife Reserves
Eastern Cape Game and Nature Reserves below or visit the Eastern Cape National Parks page
Garden Route National Park
Along the South Coast of South Africa lies one of the most beautiful stretches of coastline in the world, home to the Garden Route National Park. A mosaic of ecosystems, it encompasses the world renowned Tsitsikamma as well as Wilderness sections, the Knysna Lake section, a variety of mountain catchment, Southern Cape indigenous forest and associated Fynbos areas. These areas resemble a montage of landscapes and seascapes. From ocean to mountain areas, and are renowned for its diverse natural as well as cultural heritage resources. Managed by South African National Parks, it hosts a variety of accommodation options, activities and places of interest.
www.sanparks.co.za/parks/garden_route/
+27 42 281 1607
grace.valela@sanparks.org
Baviaanskloof Nature Reserve
With its World Heritage Site Status, the Baviaanskloof Nature Reserve is home to the biggest wilderness area in the country. Baviaanskloof Nature Reserve is also one of the eight protected areas of the Cape Floristic Region. The Baviaanskloof Mega-Reserve covers 200km of unspoiled, rugged mountainous terrain. With spectacular landscapes also hosting more than a thousand different plant species, including the Erica and Protea families as well as species of ancient cycads. Seven of South Africa's eight biomes are represented within the Baviaanskloof Nature Reserve – Fynbos, Forest, Grassland, Succulent Karoo, Nama-Karoo, Subtropical Thicket and Savanna. This reserve is a must-see for all nature and adventure enthusiasts.
www.visiteasterncape.co.za/nature-conservation/provincial-parks/baviaanskloof/
+27 43 7054400
info@ecpta.co.za
Lombardini Game Farm
Situated in the picturesque Seekoei river valley, Lombardini Game Farm is an absolute gem! With daily guided tours around the game park, you are sure to see most of our beautiful animals.  Luxurious en-suite in-house accommodation offers peace and tranquillity to guests. The warmth of the Thatch roof makes you feel right at home. Semi self-catering Poolrooms, with stunning interior, will make you want to stay another day. Self-catering cottages are also available for more personal space. And last but not least! A Wedding Venue that will take your breath away.
+27 82 925 7774 or +27 83 227 3165
lombardini.gamefarm@truewan.co.za
Thunzi Bush Lodge
Thunzi Bush Lodge is located in the tranquil sanctuary of coastal forest and African bush and offers country-style self-catering accommodation 30 km from the centre of Port Elizabeth, at the start of the Garden Route. The lodge caters mainly for the traveller who enjoys a tranquil setting, forest & beach walks, bass fishing or bird watching. Walking trails around the lodge provide access to the dense indigenous coastal forest where many bird species and animals including bushbuck, blue duiker and vervet monkeys can be spotted. Charming wooden chalets with private decks merge luxury, supreme style, spaciousness and comfort for the enthusiastic nature lover. Relax at our lazy-lizard swimming pool, experience our friendly staff, tasty picnic baskets and many interesting activities.
+27 725974810
info@thunzi.co.za
Kragga Kamma Game Park
Lush coastal forest and grassland is home to vast herds of African game, including White Rhino, Buffalo, Cheetah, Giraffe, Zebra, Nyala, Bontebok, Lechwe and many more species. All the animals roam freely, unrestricted in natural surroundings. This owner operated, animal-friendly park, where no hunting or other disturbance of the game is permitted, means that you always get close up views and great photo opportunities. Take a drive in your own vehicle through the park on the well-maintained roads (no need for 4×4) and enjoy viewing the game in any weather conditions from the comfort of your car. For those really close encounters, choose the 2 hours guided tour in an open Landrover with a professional guide providing you with interesting information on the animals and the historical background to the area.
kraggakammagamepark@telkomsa.net
+27 41 3794195
Sibuya
One of South Africa's most unique Safari destinations. Sibuya has more navigable river than any other game reserve in South Africa. Consequently, as a birding destination, it is hard to beat: there are nearly 400 different species. This breathtakingly beautiful game reserve is a sanctuary to an abundance of diverse wildlife from elephants to otters, and almost everything in between, including the Big Five. Find accommodation in two private and exclusive luxury tented game lodges and prides itself on superb cuisine. Sibuya's reception is in the holiday village of Kenton-on-Sea in the Eastern Cape Province, about 140 km's (80 miles) equidistant from Port Elizabeth and East London.
A natural extension to any trip, from Cape Town up the Garden Route, and easily accessible from Port Elizabeth which is a short flip from the major cities of Cape Town, Johannesburg and Durban. Charter flights to Port Alfred are less than a 20-minute transfer to the game park. The unique experience starts immediately with a half-hour boat transfer up the Kariega estuary to River Camp or Forest Camp. Leaving the beach, turtles, dolphins and whales might be seen near the river mouth. Both camps nestle in riverine forest and have been constructed in an environmentally conscious manner. Guests are hosted as well as guided by a team of experienced professionals.
reservations@sibuya.co.za
+27 46 6481040
Oceana Beach and Wildlife Reserve
Oceana Beach & Wildlife Reserve in Port Alfred, Eastern Cape, South Africa offers ultra-luxurious accommodation that includes a select group of unique guest suites in the Ocean Lodge and Private Ocean House as well as spectacular individual private chalets. Our Africa-shaped knife-edge pool has a marked point where you can rest your chin that is the absolute centre of Oceana.
+27 83 616 0605
reservations@oceanareserve.com
Hopewell Game Reserve
Redefining the meaning of "private", Hopewell Lodge is an exclusive hideaway where unspoilt nature meets pure African luxury, and guests reconnect with nature at their own pace. This private game reserve in South Africa's beautiful Eastern Cape hosts groups of up to 12 guests in stylish, secluded suites with sweeping views over a reclaimed Eden. Waking up to the sounds as well as sights of the African bush, sundowners above the elephants' favourite watering hole. Guests can also relax in a secluded private pool overlooking the bush, and enjoy sumptuous dinners under the stars provide the memories that linger long after your stay at Hopewell.
Whether for 2 or a group up to 12 people, Hopewell is booked exclusively for your party only, offering guests guaranteed privacy and allowing them to set their own schedule for game drives, meals and activities. Passionate and experienced rangers guide our guests through the rolling landscape. Ever willing to stop and discuss plants, insects, birds as well as game spotted along the way. Up close and personal interaction with a cheetah is also a highlight of this unique wildlife experience. Guests are guaranteed to encounter our herd of elephant, along with hippo, giraffe, zebra, antelope and other indigenous species carefully introduced to maintain a balanced eco-system.
www.hopewell-lodge.com/about-hopewell/
+27 73 5314692
info@hopewell-lodge.com
Now the third largest national park in South Africa, Addo Elephant National Park has expanded to conserve a wide range of biodiversity, landscapes, fauna and flora. Stretching from the semi-arid karoo area in the north around Darlington Dam, over the rugged Zuurberg Mountains, through the Sundays River Valley and south to the coast between Sundays River mouth and Bushman's river mouth, Addo covers about 180 000 hectares (444 700 acres) and includes the Bird and St Croix Island groups.
For comprehensive information and all contact details visit the Addo Elephant National Park page HERE
The original elephant section of the park was proclaimed in 1931 when only eleven elephants remained in the area. Today this finely tuned ecosystem is a sanctuary to over 600 elephants, lion, buffalo, black rhino, spotted hyena, leopard, a variety of antelope and zebra species, as well as the unique Addo flightless dung beetle, found almost exclusively in Addo. The park can exclusively claim to also be the only national park in the world to conserve the "Big 7". The Big 5 as well as the southern right whale and great white shark off the Algoa Bay coast.
www.sanparks.co.za/parks/addo/
+27 42 2338600
addoenquiries@sanparks.org
Eastern Cape Population
Capital: Bhisho
Principal languages:
IsiXhosa 82,7%
Afrikaans 10,3%
English 3,9%
Population: 6 996 976
The percentage share of the total South African population: 12,6%
Area: 168 966 km2
Source: Stats SA's Mid-year population estimates 2017 and Community Survey 2016
Travel Distance
Port Elizabeth – East London 283.3km
Port Elizabeth – Port Alfred 152.4km
Port Elizabeth – Grahamstown 126.6km
Port Elizabeth – Queenstown 340km
Port Elizabeth – Mthatha 483.6km
Port Elizabeth – Port Edward 764.5km
Port Elizabeth – Port St Johns 578km
Port Elizabeth – Aliwal North 501.3 km
East London – Port Alfred 132.3km
East London – Grahamstown 159.5km
East London – Queenstown 188km
East London – Mthatha 232.6km
East London – Port Edward 513.5km
East London – Port St Johns 327km
East London – Aliwal North 357.8km
Mthatha – Queenstown 222km
Port Elizabeth – Johannesburg 1046.4km
Port Elizabeth – Cape Town 769km
Port Elizabeth – Durban 984km
Port Elizabeth – Bloemfontein 677km
East London – Johannesburg 982km
East London – Cape Town 1099km
East London – Durban 674 km's
East London – Bloemfontein 584 km,s
Visit the Eastern Cape Provincial Reserves page or Eastern Cape Private Reserves or maybe you would like to visit the Eastern Cape National Parks page. Find Property for Sale in the Eastern Cape.