Alexander Bay is located on the R308 driving north from Port Nolloth on the way to Sanddrift. Alexander Bay is a town in the extreme north-west of South Africa. It is located on the southern bank of the Orange River mouth. The Orange river enters the Atlantic ocean at Alexander bay and forms the border between Namibia and South Africa. There is nothing more northerly than this seaside town. Virtually on the border with Namibia in a region known simply as Little Namaqualand.
This town organizes historic diamond tours and markets itself as the 'Diamond Coast – forever Namaqualand'.
At the mouth of the Orange River, the town is no longer a high-security area and no permits are needed. The town takes its name from Sir James Alexander, who shipped the Richtersveld copper ore he mined in barges down the Orange River for export from this bay.
With diamonds being discovered along the West Coast in 1925, Alexander Bay was established to service the mining industry.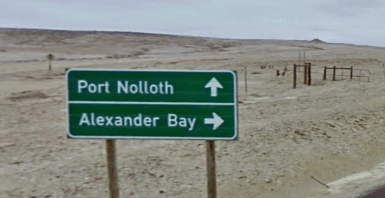 The town of Oranjemund lies on the northern bank of the river, which forms the international border with Namibia. The two towns are linked by the Harry Oppenheimer Bridge, named for Harry Oppenheimer in 1951.
The town is served by an airport known as the Alexander Bay Airport.
The town falls under Richtersveld Local Municipality and is part of Namakwa District Municipality in the Northern Cape.