Welkom (Thabong)
Welkom is South Africa's youngest town and has been the center of the Free State Goldfields, serving several gold and uranium mines, since 1947. Centrally situated, Welkom is placed within comfortable distance from other major cities. Johannesburg is only 250 km's away, while the distance to Bloemfontein measures 155 km's.
Following the discovery of gold in 1946, Welkom was founded in 1947 on the farm Welkom, with the word "welkom" meaning in Afrikaans welcome. Welkom received municipal status in 1961 and was declared a city in 1968.It was planned as a model town, with a horseshoeshaped shopping and administrative district surrounding a park of 11 ha. More than 1 million trees were planted in the town. Satellite towns on the Free State Goldfields like Virginia, Hennenman, Allanridge, etc. sprung up.
Welkom is a Gold mining town 160 km north-east of Bloemfontein and 70 km south-west of Kroonstad. It was laid out on the farm Welkom and proclaimed in July 1948, and became a municipality in January 1961. The name is Afrikaans and means 'welcome'.
Tourist Attractions
Welcome To Welkom
One of South Africa's youngest cities, Welkom was established after the discovery of gold in the area in 1947. Welkom's many interesting tourist attractions include:
• The Gold Museum – a fascinating history of gold mining and the origins of Welkom.
• Underground mine tours through a modern mine.
• The Phakisa Freeway Race Track – one of the fastest tracks in the world.
• The Harmony and Sibanye gold mines.
• The Welkom Flea Market event, held every second week of the month.
• The challenging and well-kept Oppenheimer Park Golf Course.
• Klippan Farm, featuring a variety of animals and traditional Free State farming equipment.
• Aandenk Monument, where the first borehole was drilled in search of gold.
• Thabong Township, where most migrant workers on the Welkom Mines lived.
Goldfields Casino
The Casino Floor boasts a variety of exciting slot machine games like Blackjack, Casino Hold'em Poker and American Roulette. The Casino complex offers all round family entertainment that consists of a video arcade, buffet restaurant, fast food court, candy shop and a cigar bar.
Golf
The Ernest Oppenheimer Golf Course is a tricky course but is a great challenge. The contact numbers of the club are tel. +27 (0)57 651 4168 and fax +27 (057) 651 4005. The website is www.golfwelkom.co.za and the email address is opgc@internext.co.za. There are also two other golf courses, namely the Western at Western Holdings and Flamingo at Flamingo Park.
Phakisa Racing Circuit
The Phakisa Freeway is an international standard, multi-purpose motor sport facility situated in the heart of the Goldfields region of the Free State. Phakisa means "Get Moving" in Sotho. The track boasts a 4,24km road course as well as a 1,5 mile banked oval track similar to the highly acclaimed Las Vegas Motor Speedway in Nevada. The Grand Prix road course was designed in conjunction with officials of the FIM and is rated as one of the safest circuits on the GP tour. It is 12m wide throughout and has 14 turns, 5 left and 9 right-hand.
Paragliding and skydiving
Welkom caters for paragliding and skydiving enthusiasts as well as for most of the other types of water sport activities.
Sport
The town has facilities for tennis, cricket, rugby, hockey, squash, bowls, archery and swimming.
Peter Pan Park

Peter Pan Park is next to Welkom and is located in Lejweleputswa District Municipality, Free State, South Africa.
Flamingo Pan
Enjoy a picnic at scenic Flamingo Pan while watching the, graceful, longlegged, pink and white flamingos going about their business.
Klippan Farm Park
This park, with its live farm animals, is a firm favourite with children.
Parks
Sir Ernest Oppenheimer intended that Welkom should be a "city within a garden". The numerous parks with their rolling, green, lawns, picnic spots and barbecue facilities, made this possible. Most of the city's monuments can be found in Van Riebeeck Park, and Peter Pan Park, with its roller-skating arena, is ideal for the younger generation. Other parks in the city include Central Park and West Park.
Theronia Pan Bird Sanctuary
Theronia Pan Bird Sanctuary is yet another safe haven for the many birds in the area, especially waterfowl, greater and lesser flamingo and, strangely enough, the occasional seagull.
Toronto Recreation Centre
This child-friendly recreation centre offers regular educational and recreational programmes and demonstrations.
Mines
Gold Mines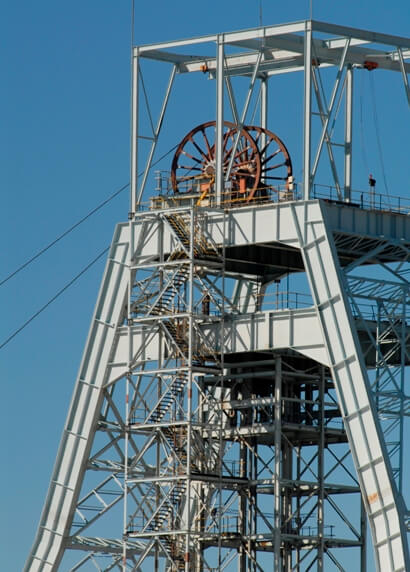 Some of the world's deepest, biggest and best known workings are located in the Welkom-Virginia area, though the industry has undergone server setbacks in recent years from moderate demand and a stubbornly conservative metal price. Visitors can experience full-day surface and underground conducted tours. For example, the St. Helena Mine is the world's deepest wine cellar at the St Helena Mine, which is 857 m below the earth's surface. St Helena 4 Shaft is a Gold Mine (Free State) in South Africa owned by Harmony. The world's deepest wine cellar is at the St Helena Mine (Welkom) and is located at 857m below the earth's surface. Underground mine tours can be arranged.
Alternatively, visit the mock-up training centre (a simulation of underground working conditions) where all miners are trained before going underground.
Natural Sites
The Flamingo Lake
Located at the western end of Welkom town, home to flamingos and other bird species. Various recreational facilities planned along the northern and western sides of the water are now mostly derelict. If the ground is revamped and maintained at excellent levels for outdoor activities in the long run, it may draw more visitors to area.
Willem Pretorius Game Reserve (80km's away)
Willem Pretorius Game Reserve is the largest game reserve in the Lejweleputswa District Municipality of South Africa, encircling the Allemanskraal Dam. The Sand River flows from east to west through the reserve.
Museums
Welkom Museum
The Museum houses displays related to tourist attractions of the region, bird and animal life indigenous to this region, gold mining history and the history of the town.
Gold Museum
A complete history of gold and its mining and production is on display in the library. This public library also displays the town's history as well as bird and animal life indigenous to this region
Sports Facilities
The Phakisa Race Track
Situated between Welkom and Odendaalsrus is world-renowned for its MotoGP races and other motor-racing events. The track boasts a 4,24km road course as well as a 1, 5 mile banked oval track similar to the highly acclaimed Las Vegas Motor Speedway in Nevada. The asset has great investment potential and is seen as a centrifugal force for secondary tourism hub development around it vis-a-vis particular sporting events.
Rovers Club
A municipal sports centre offering rugby, soccer, netball, tennis, hockey, cricket, and bowling and snooker facilities.
Griffons Stadium
North West Stadium (currently known as the HT Pelatona Projects Stadium for sponsorship reasons) is a sports stadium in Welkom, South Africa. It is the home ground of the Griffons who compete in the Currie Cup and Vodacom Cup rugby union competitions. The stadium is able to hold 8,500 people.
Address: Griffons stadium, Welkom
Tell: 057 352 6482
Showgrounds
Address: Showgrounds, Matjhabeng
Tell: 057 916 4077