A Paradise of Natural Beauty and Coastal Diversity
South Africa, with its vast coastline stretching along the Atlantic and Indian Oceans, is blessed with an abundance of stunning beaches. From secluded coves to sweeping bays, the country offers a stunning range of coastal landscapes that cater to every beach lover's desire. With one-of-a-kind estuaries, captivating wildlife, thrilling bird watching opportunities, exhilarating whale watching, and a multitude of recreational activities, all beaches of South African provide an idyllic setting for relaxation, adventure, and exploration. Let's delve into the allure of these sandy shores and discover the wonders they hold.
Nature's Tranquil Retreats
South Africa's beaches are not limited to sandy stretches alone. Along the coastline, you'll find breathtaking estuaries where rivers meet the ocean, creating serene and picturesque environments. These estuaries, such as the Knysna Lagoon in the Western Cape or the St. Lucia Estuary in KwaZulu-Natal, offer a unique blend of freshwater and marine ecosystems. Visitors can enjoy activities such as boating, kayaking, and bird watching, while immersing themselves in the tranquility of these natural havens.
Wildlife Encounters
The coastal regions of South Africa are home to a wealth of wildlife, offering visitors extraordinary encounters with nature. Beaches near protected areas like iSimangaliso Wetland Park or the Cape Peninsula National Park allow you to witness a diverse range of animal species. Keep an eye out for dolphins playing in the surf, seals basking on rocky outcrops, and even the possibility of spotting whales migrating along the coastline. These marine mammals offer a captivating spectacle and a once-in-a-lifetime experience.
Bird Watching Delights
For bird enthusiasts, South African beaches provide excellent opportunities to observe an incredible variety of bird species. Coastal areas like the West Coast National Park or the Wilderness National Park attract numerous migratory birds, making them a birdwatcher's paradise. You can witness graceful flamingos wading through shallow waters, majestic African fish eagles soaring overhead, and colorful kingfishers perched on branches. Embark on leisurely walks or join guided tours to discover the rich avian diversity that calls South Africa's beaches home. Some examples are: African Black Oystercatcher, Cape Gannet, Kelp Gull, Sanderling and Southern Black Korhaan. Read More.
 Whale Watching Spectacles
The South African coastline is renowned for its remarkable whale watching opportunities. During the migratory season, from June to November, southern right whales and humpback whales make their way along the coast. Head to destinations like Hermanus, Plettenberg Bay, or the De Hoop Nature Reserve for front-row seats to these awe-inspiring spectacles. Witness the gentle giants breach, tail-slap, and blow water into the air, leaving you in awe of their sheer size and grace. Guided boat tours or vantage points along the shore provide incredible views and an unforgettable experience.
Offshore and Deep-Sea Fishing
South Africa's beaches are a paradise for fishing enthusiasts. From shoreline angling to deep-sea adventures, the country offers a wealth of opportunities. Cast your line from the beach, targeting species like kob, galjoen, or shad, or venture out to sea for an exhilarating deep-sea fishing experience. Charters operate from various coastal towns, catering to both novice and experienced anglers. Whether you seek the thrill of reeling in a big catch or simply wish to relax with a fishing rod in hand, South African beaches provide an ideal setting for this beloved pastime.
Tours and Activities
Exploring South African beaches goes beyond lounging on the sand. Various tour operators offer exciting activities and experiences to make the most of your coastal adventure. Join guided nature walks along pristine shores, where knowledgeable guides will share insights about the local flora and fauna. Take part in adrenaline-pumping water sports such as snorkeling or scuba diving to discover the vibrant underwater world teeming with colorful marine life. For those seeking a more leisurely experience, indulge in sunset cruises or beach horseback rides, allowing you to soak in the breathtaking coastal scenery in a unique way.
The Pleasure of Walking
South African beaches invite visitors to enjoy leisurely walks along their sandy stretches. Feel the soft sand between your toes as you stroll along the shoreline, embracing the soothing sound of crashing waves and the invigorating coastal breeze. Many beaches have designated walking trails that allow you to explore the surrounding natural beauty, providing opportunities to spot wildlife, admire scenic viewpoints, and revel in the serenity of nature. Whether it's a brief stroll or a longer hike, walking along South African beaches offers a chance to reconnect with the environment and find tranquility in the coastal landscape.
Climate and Temperature
South Africa's beach destinations boast a pleasant climate that makes them enticing year-round. Along the east coast, where the warm Indian Ocean currents prevail, you'll find subtropical conditions with mild winters and hot summers. The west coast, influenced by the cool Benguela Current, offers a Mediterranean-like climate with warm, dry summers and cool, wet winters. Average temperatures range from 20°C to 30°C (68°F to 86°F) during summer and 10°C to 20°C (50°F to 68°F) during winter. This favorable climate ensures that visitors can enjoy the beaches and their activities throughout the year.
Famous Beaches, Beach Towns, and Costal Cities
South Africa is home to several renowned beaches, beach towns, and cities that have captured the hearts of locals and tourists alike. Here are some notable destinations:
– Clifton Beaches (Cape Town): Nestled between the Twelve Apostles mountain range and the azure Atlantic Ocean, the four secluded beaches of Clifton are synonymous with luxury and beauty. The pristine white sands and crystal-clear waters attract sun worshippers and provide a stunning backdrop for beachfront activities.
– Camps Bay (Cape Town): Located adjacent to Clifton, Camps Bay is a vibrant beachfront suburb known for its palm-fringed beach, trendy cafes, and upscale restaurants. It offers panoramic views of the Atlantic Ocean and the iconic Twelve Apostles mountain range, making it a popular destination for both locals and international visitors.
– Umhlanga Rocks (Durban): Situated north of Durban, Umhlanga Rocks boasts golden beaches and a thriving tourist hub. The main beach is renowned for its iconic lighthouse, which stands as a symbol of the town. Visitors can enjoy swimming, sunbathing, and exploring the vibrant promenade lined with restaurants, bars, and boutiques.
– Plettenberg Bay (Garden Route): Plettenberg Bay, often referred to as "Plett," is a picturesque coastal town along the Garden Route that deserves a closer look. Known for its stunning natural beauty and relaxed atmosphere, Plettenberg Bay offers a perfect blend of outdoor adventure, tranquil beaches, and abundant wildlife. Plett is a popular destination for visitors and South Africans alike.
Please can we go to Duuurban
South African beaches are a true gem, offering endless delights for nature enthusiasts, adventure seekers, and those simply seeking relaxation. With estuaries, wildlife encounters, bird watching opportunities, captivating whale watching, thrilling fishing experiences, guided tours, and the simple pleasure of walking along the shore, these beaches provide an unforgettable experience for visitors.
Coupled with the favorable climate and picturesque coastal landscapes, South Africa's beaches are a testament to the country's remarkable natural beauty and coastal diversity from the scenic appeal of the Garden Route and coastal destinations which captivate visitors. SA is renowned for warm hospitality, and a lively atmosphere in and amongst the iconic landmarks that dot the coastline.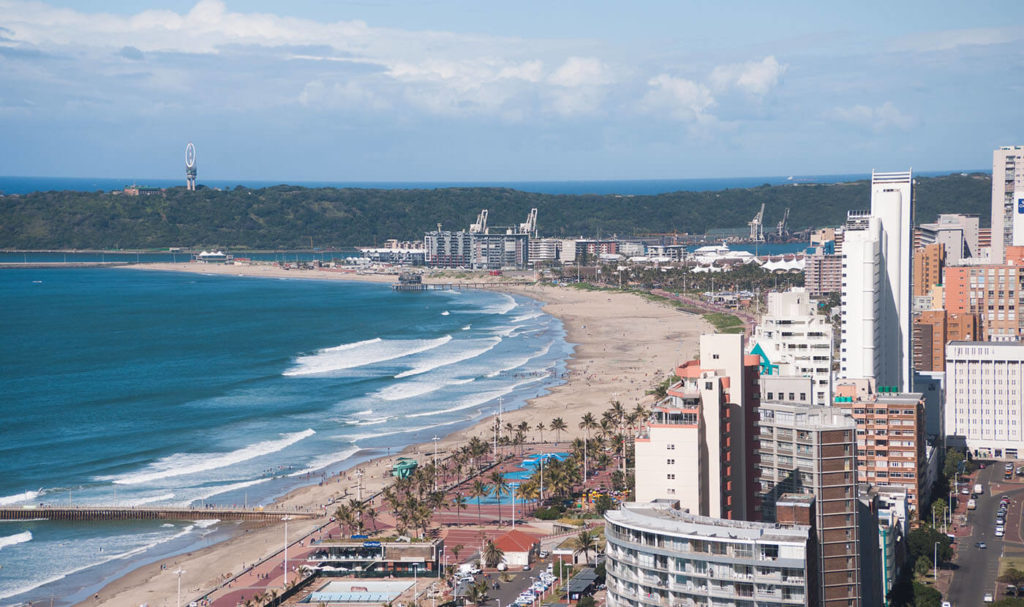 Whether you seek relaxation, adventure, or a cultural experience, South African beaches have it all, making them a must-visit destination for beach lovers and travel enthusiasts.