Information on the Northern Cape Provincial Reserves including contact details when supplied.
Akkerendam Nature Reserve
Situated two kilometres outside of Calvinia, this gem of a nature reserve protects the fragile fauna of the Hantam Karoo region, which comprises of succulent Karoo scrub, Mountain Renosterveld and a wide range of bulbous flora. This includes 10 floral species, which are unique to the Hantamsberg (Hantam mountain). Akkerendam Nature Reserve has beautiful scenery, magnificent sunsets and lovely hiking trails.
In spring the entire reserve is a riot of colour as the spring flowers erupt in a magnificent display of beauty. Bird watchers can enjoy the Karoo lark, African Marsh Warbler, Namaqua Warbler, Ludwig's and the Greater Kestrel.
There are two hiking trails in the reserve that provide spectacular views from the Hantam Mountains.
The Akkerendam Nature Reserve falls under the Hantam Municipality which covers 36 128km² and includes Calvinia, the centre, as well as Brandvlei, Loeriesfontein, Middelpos, Nieuwoudtville and Swartkop. Calvinia is approximately 400 km from Cape Town, Springbok, Upington and Beaufort West. A 1 250 meter tarred runway, very close to Calvinia, is used by many visitors to this beautiful part of the Northern Cape.
The Hantam Municipality is well known for its wide open spaces, stunning mountain ranges and nature reserves filled with an incredible array of plants and bulbs that cannot be found anywhere else in the world.
The Akkerendam Nature Reserve is 2 km's from Calvinia.
Goegap Nature Reserve
This 7 000 hectare nature reserve, just east of Springbok, supports 600 different indigenous plant species, 45 mammal species and 94 bird species.
The characteristic granite domes and peaks of the region contrast with the sandy plains, where springbuck, gemsbok and Hantam's Zebra forage.
Bird enthusiasts can look forward to spotting the Cape Eagle Owl, Black Eagle, Booted Eagle, Ludwig's Bustard, White-backed Mousebird, Karoo Eremomela and the Dusky Sunbird to name but a few.
The Hester Malan Wild Flower Garden within the reserve showcases many Namakwa succulents and features a rock garden. This succulent garden is also the starting point to a 17-km tourist loop, which one can drive to explore a cross-section of the reserve's habitats.
There are also 4×4 routes for exploring further afield. Between August and September the region bursts into a display of floral grandeur.
The reserve is open from 08:00 to 16:30 all year round. An entrance fee is payable at the gate.
Goegap Nature Reserve
Tel: +27 (0)27 718 9906
Oorlogskloof Nature Reserve
Ten kilometres south of Nieuwoudville, the rugged series of deep ravines incised by the Oorlogskloof River offers spectacular scenery with hiking trails  traversing gorges, rivers, caves and plateaus. The Oorlogskloof Nature Reserve lies in the transition zone between the fynbos and Karoo biomes.
There are two 4 to 5-day hikes as well as two single day hikes. This area home to several rare bird species, including Verreaux's eagles, booted eagles, black storks and gymnogene.
Oorlogskloof Nature Reserve
Telephone +27 (0)27 218 1010
Fax +27 (0)27 218 1159
E-mail: wpretorius@sp.ncape.gov.za
Rolfontein Nature Reserve
Sixteen kilometres north of Petrusville and bordering on the Vanderkloof dam the Rolfontein Nature reserve is situated in the upper Karoo. The terrain is made up of Karoo plains dotted with dolerite buttes (known as koppies), as well as mountains with wooded kloofs.
The white rhino, Burchell's zebra, brown hyena, springbuck, gemsbok and other antelope can be found in this reserve, as well as the more elusive aardvark and aardwolf.
The Piet Barbet hiking trail is a short 4km meander through the park, but hikers are welcome to explore further, as long as you make arrangements with the park management in advance. Visitors can picnic in the reserve and overnight accommodation is available in tented camps and there are two overnight huts for hikers.
Spitskop Nature Reserve
This small nature reserve was named after the rocky protrusion that is the Spitskop granite kopppie outside of Upington. As small as it is, this reserve boasts large herds springbuck and other antelope species such as eland, gemsbok and hartebeest as well as zebra and many smaller mammals, such as suricate, Squirrel and Mongoose. Reptiles found includes: Tortoise, Puff Adder and Cape Cobra. The most frequently spotted birds include: Ostrich, Goshawk, Fiscal Shrike and Sandgrouse.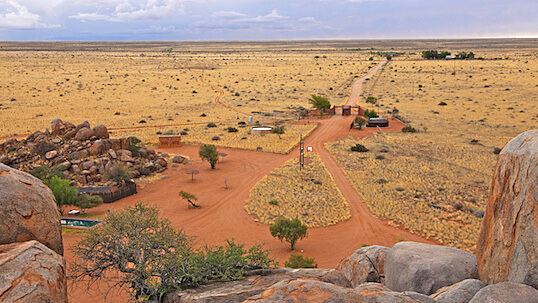 Although not native to Southern Africa, camel roam freely across this park, as they were bred to be used by the police 'mounties' who used these beasts to patrol this arid region in the past.
A ten or fifteen minute climb will bring you to the summit of Spitskop Hill where there is a telescope for game viewing and you can enjoy the relaxing atmosphere as you gaze over the Kalahari Desert.
This reserve welcomes hikers and cyclists and there is overnight accommodation in the form of chalets, caravan or camping facilities.
Witsand Nature Reserve
Flowing white dunes, twenty to sixty metres high, are surrounded by copper-red Kalahari sand, Acacia woodland and the Langberg Mountain range. Home of the famous 'Brulsand' or Roaring Sands of the Kalahari, these dunes emit a strange roaring sound when disturbed (by wind, man or animal). This roaring only occurs in the hot dry months between September and April, as any rainfall mutes the dunes for a number of days.
Animals in the Witsand Reserve include: springbuck, gemsbok (orynx), steenbok, duiker, red hartebeest, ground squirrels, meerkat, porcupine, aardwolf, aardvark, pangolin, bat-eared fox, cape fox, genet, and spring hare.
Witsand offers an interesting combination of arid region and bushveld birds, such as sociable weavers, secretary bird, crimson-breasted boubou or shrike, kori bustard, lilac-breasted roller and three species of sandgrouse pygmy falcon Africa's smallest raptor).
Witsand Nature Reserve
Tel/Fax: +27 (0)53 313 1061/2
Mobile: +27 (0)83 234 7573
Email: witsandkalahari@telkomsa.net
Website: www.witsandkalahari.co.za
Visit the Northern Cape National Parks page HERE