Rustfontein Dam Nature Reserve, 10km from Botshabelo. Rustfontein Dam situated 10 km south of the N8 national road between Bloemfontein and Thaba Nchu in the Free State Province. The Rustfontein Dam was built in 1955.
Tel: 051 528 2926 – contact details.
Rustfontein Dam is a gravity type dam located on the Modder River
The surrounding countryside, with its tree-studded koppies and grassy hillsides, provides an attractive backdrop to this dam that water-sport enthusiasts have chosen as their playground.
The dam is located 50 km's from Bloemfontein, 20 km's from Botshabelo and 40 km's from Thaba Nchu.
Angling and water sports are the main activities and angling competitions are held regularly.
Rustfontein Dam Nature Reserve is situated on the Cheetah tourism route in the Free State. The Cheetah Route takes you through the Mangaung District – the cultural and political heart of the Free State. Abundant historical, cultural and natural attractions make the region a top business and recreational destination.
Towns on the Cheetah Route are:
• Bloemfontein
• Botshabelo
• Thaba-Nchu
Based on the number of angling licences sold at provincial nature reserves and resorts and where angling tournaments were held, the most important impoundments in the Free State Province for bank angling are Allemanskraal, Bloemhof, Erfenis, Koppies, Krugersdrift and, historically, Rustfontein. All of these impoundments' surface areas at full supply level, except for Rustfontein Dam, are larger than 1 400 ha.
Rustfontein Dam Nature Reserve Contact Details
Contact information: Rustfontein Dam Nature Reserve – near Thaba Nchu. No accommodation.
Tel: 051 528 2926
You might also find more information about Rustfontein Dam at:
MANGAUNG TOURIST INFORMATION OFFICE
Tourism Center
60 Park Road
Willows
Bloemfontein
Tel: 051-4058489/90
Fax: 051-4473859
Rustfontein Dam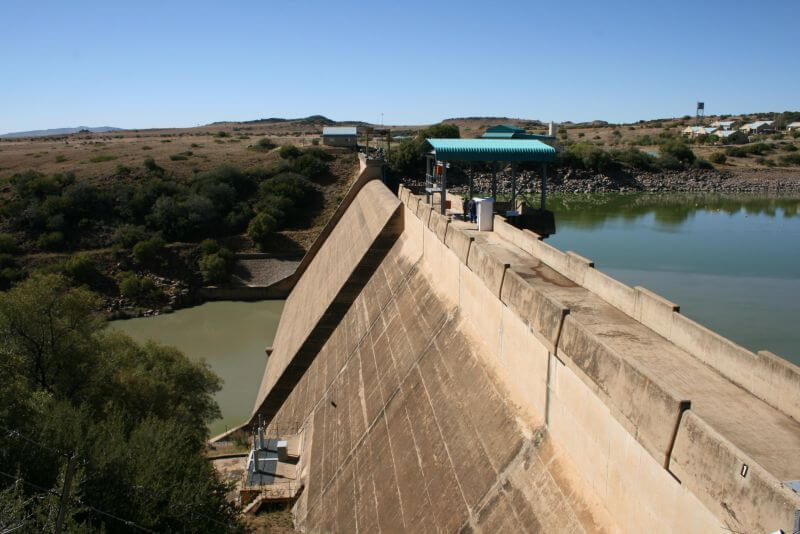 Image courtesy www.dwa.za.gov
Angling information:
The most anglers participated in angling tournaments held at Bloemhof Dam, followed by Rustfontein, Vaal, Koppies and Krugersdrift Dams, which also hosted the most tournaments. Krugersdrift and Rustfontein Dams are situated close to the Mangaung Metropolitan Municipality while Koppies Dam is preferred by angling clubs in the Northern Free State as a tournament venue.
Available on website http://www.wrc.org.za
ISSN 1816-7950 (Online) = Water SA Vol. 43 No. 3 July 2017